Contacts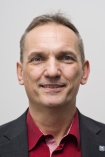 Vice-Dean for Science and Research
prof. RNDr. Karel Lemr, Ph.D.
585 634 415
karel.lemr@upol.cz
organizing Scholarly Board meetings
proceedings to grand associate or full professorship
appointing members of committees and opponents for rigorous proceedings
FRUP and IGA institutional grants
supporting participation of faculty workplaces in grant competitions
Prof. RNDr. Karel Lemr, Ph.D. (*1963), graduated from the Faculty of Science, Palacký University, where he majored in Analytical Chemistry. He was appointed Associate Professor in 1998 and Professor in 2003.
After completing his studies, he worked at the department of quality of Farmak Olomouc, then as a researcher at the Research Institute for Pharmacy and Biochemistry, its experimental pilot operation in Olomouc. In December 1992 he returned to the Department of Analytical Chemistry, where he has been studying mass spectrometry and separation methods. The research includes study of the basic processes influencing chemical analysis by these methods, the development of an original ion source for surface analysis and a number of applications, for example from the field of toxicological analysis. He is the co-author of more than 130 professional publications that have been cited more than 1,900 times. He is the Hanuš Medal alumni awarded by the Czech Chemical Society.
As an administrator and co-administrator he has participated in a number of research projects. His teaching activities include lectures and seminars focused on the basics of Analytical Chemistry, separation methods and mass spectrometry. Under his leadership, eight bachelor, 27 diploma and seven dissertation papers have been defended.
Professor Lemr is a member of the Permanent Committee for Doctoral Dissertation Defense (DrSc.), the panel and the field committee of the GAČR, the Committee of the Doctoral Study Programme of Chemistry and Food Technology at the Institute of Chemical Technology, and the Chair of the Doctoral Committee of the Doctoral Study of Analytical Chemistry at the Faculty of Science, UP. He was a member of the Expert Committee on the Inherent Science and Engineering of the Council for Research, Development and Innovation, the Council of the Institute of Analytical Chemistry of the Academy of Sciences of the Czech Republic, or the Scientific Council of the Faculty of Science, UP. He is a member of Czech and foreign expert societies.
He is married, has four children and two grandchildren, his son also works at the Faculty of Science. In his spare time, he likes to play hockey, tennis, or read some non-fiction or a good detective novel.

Bc. Barbora Krudencová
Science and Research Officer
+420 585 634 155
barbora.krudencova@upol.cz
Scholarly Board, proceedings to grant associate of full professorship, Dean's award, Rector's Honorary Mention, editorial activity