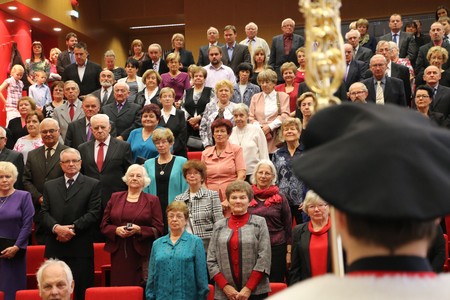 The Faculty organizes the first Diamond graduation
November at the Faculty of Science will be marked mainly by meeting with our alumni. The Silver graduation will take place on Saturday, November 4, the Golden graduation and the first Diamond graduation will be held on Friday, November 24. The first alumni of the Faculty who graduated in 1957 and who took part in the first Golden graduation will meet at this occasion.
"Golden graduates themselves have initiated the Diamond graduation expressing their interest in meeting each other again. Therefore, we decided to arrange their reunion 60 years after their graduation. We wish to show our oldest graduates that we appreciate them and that we are glad they still keep thinking of our Faculty, " said Josef Molnár, Vice-Dean for External Cooperation.
The previous Dean of the Faculty Juraj Ševčík decided to organize the first Golden graduation inspired by golden wedding celebration after 50 years of marriage. He wanted to create an opportunity for our alumni to meet again as well as to get into contact with them and initiate possible cooperation throughout the year. But that was only the beginning.
"Drawing inspiration from prestigious universities, which organize reunions of former students 25 years after their graduation, in 2009 I decided to hold Silver graduation as well. Silver graduates have been working in their respective fields for about 25 years, often holding management positions. It is easier to get in touch with them and discuss possible cooperation, " added Molnár.
According to him, these graduation ceremonies are very successful, which is illustrated by the fact that our Faculty set an example to other faculties of UP as well as other universities. "It is a great way to allow people to meet their former colleagues, and the Faculty on the other hand may develop further cooperation and partnership. Our database of graduates is constantly extending, our former students contact us to give their current details. However, there is still more work to be done," concluded Molnár.
The database of graduates of the Faculty of Science contains over 15 thousand people. We have managed to update more than half of the contacts.
Grant Agency of the Czech Republic (GA CR) has announced an additional call for proposals for nomination of candidates to the evaluation panels of GA CR. Detailed information as well as a form of proposal and a description of the contents of individual evaluation panels are available here. Proposals shall be submitted to Michaela Kratochvílová at the Department of Science and Research by November 27.
Curriculum for academic year 2017/2018 is available on the website of the Faculty.

Graduation Ceremony
The schedule of November graduation cedremonies has been posted at the website of the Faculty.
Doctoral study
We kindly request students of Doctoral study programs who wish to make any major changes regarding their studies (discontinuing their studies, changing a supervisor or a form of study) to first register their application at the Faculty registry and keep a copy of the document.
Students who wish to terminate their studies at their own request shall do so by the 25th day of the month due to scholarship payment administration procedure deadline.
Graduation ceremony of Doctoral study programs will be held on December 8 in the auditorium of the Faculty of Law.
A teaching internship for the first-year students as well as students of the parallel complementary study of teaching will be taking place from March 12 to March 30. An application form for teaching internship is available on the website of the Centre of Pedagogical Training. Only registered students may enter the continuous teaching internship. Applications shall be submitted by January 2, 2018.
The Centre of Pedagogical Training places students to schools in Olomouc and nearby towns (Šternberk, Přerov, Prostějov, Uničov, Litovel). Students do not have to ensure the internship at these schools by themselves; however, they may specify the name of the preferred school in Olomouc region in the application. Students, who wish to practice their skills in different regions, shall ensure their internship position by themselves. It is necessary to ask the director of the school to approve the internship in their application form.
The Centre of Pedagogical Training provides teaching internship only in the above mentioned period of time. In case you have any questions please send an email to: jana.slezakova@upol.cz
Erasmus +
An invitation to apply for Erasmus + projects has been published on Wednesday, October 25. Five main fields which will be supported by the Erasmus + program funds based on this call are: an individual learning mobility, cooperation on innovation and exchange of best practice, support for policy reform, the Jean Monnet program, and sports. For more information about key actions of the call or deadline for submitting applications for individual fields, please write an email at info@dzs.cz.
Angelini University Award
The development of products or services that tackle the growing problem of antibiotic resistance is the topic of the first year of the Angelini Pharma Competition. Students of any type of study program and any field of study including PhD students and students involved in Erasmus + projects may participate in the competition. Teams of two to five students may submit their projects by March 15, deadline for applying for the competition is December 15. Angelini Pharma will award two best student projects as well as their supervisors. Further information is available here.
International and outer University Information
Ton Duc Thang University in Ho Chi Minh City, Vietnam is recruiting a number of lecturers, scientists, researchers and experts with Doctoral degree in all fields. More information about vacant positions is available here. Positions are available on a long-term basis (at least 12 months).
Scholarships in Germany
A complete list of scholarship positions offered by DAAD Information Center is available here. Deadline for submitting applications is November 15. Further information is available here.
Scholarships and fellowships in Israel
The Centre for International Cooperation in Education offers study or research scholarship positions for students as well as fellowships for academics at Israel universities. Students may also apply for Hebrew language course. All positions will be available in the academic year 2018/2019. Deadline for submitting applications is November 23. For further information please contact Eva Jermanová at jermanova@dzs.cz.
Operation of the Faculty at the end of the year
Due to a hectic period connected to the end of the year we kindly request our employees to continuously hand in invoices with all complementary documentation to the Economic Department after they have been properly registered at the Registry including prospective attachments for inventory of assets. All applications for abroad payments shall be submitted to the Economic Department continuously as well. Make sure to deliver all required documentation for HR department, too. Advances on travel orders for work trips carried out prior to October 31 shall be accounted as soon as possible.
Deadlines for the latest submission of individual types of documents will be specified in the next release of the Newsletter.
Heterogeneity in teaching Natural Science subjects and pre-graduate teacher training
Department of Educational Preparation cordially invites students - future teachers and university, college and secondary school academic staff to the meeting focused on heterogeneity in contemporary education. The round table meeting will take place on November 9 at 3 p.m. in the meeting room of the Dean´s Office on the sixth floor of the Faculty. A number of experts will be presenting their ideas and share their experiences on the subject. It is organized with a support of two projects based on Operational Program Research, Development and Education. For further information please write an email at jana.slezakova@upol.cz.
PosPos gathering
The Dean of the Faculty cordially invites all University staff, Ph.D. students and seniors of the Faculty to the winter Pospos gathering which will be held at the Faculty of Science foyer at 17. listopadu street on Tuesday, December 19 at 12:00 a.m. Come to forget a pre-Christmas hustle for a while, meet your colleagues and enjoy refreshments and live music.
The next Newsletter will be released on November 24, 2017
As of October 19, 2017 Ministry of Education, Youth and Sports registered the following provision of UP:
R-A-17/01 - Rules of quality assurance system of educational, creative and related activities, and internal quality assessment of the aforementioned activities of UP.
This UP provision came into effect on October 19, 2017.